(Top left) EVHRDC Chairperson and DOH EVCHD Regional Dr. Exuperia B. Sabalberino and (top right) DOH EVCHD Research Coordinator and Chair of the EVHRDC RMC and TRB, Mr. Leonido P. Olobia,  together with the (bottom left and right) participants in the event.
 The Eastern Visayas Health Research and Development Consortium (EVHRDC), spearheaded by the its Capacity Building Committee (CBC) and Research Management Committee (RMC), conducted a Training-Workshop on Molecular and Biotechnological Health Research on October 13, 14, & 15, 2021 from 9:00AM – 5:00PM via Zoom Conference.
The 3-day training's goal was to encourage researchers from the consortium's member institutions to submit proposals for molecular and biotechnological health research that are relevant to Eastern Visayas' health needs. Mr. Leonido P. Olobia, DOH EVCHD Research Coordinator and Chair of the EVHRDC Research Management Committee (RMC) and Technical Research Board (TRB), explained that the activity was designed to help regional researchers develop research proposals aligned with molecular and biotechnological health research for possible funding by the consortium. He also added that these types of researches will open doors for innovations which can generate economic benefits and medical breakthroughs for Eastern Visayas in the future.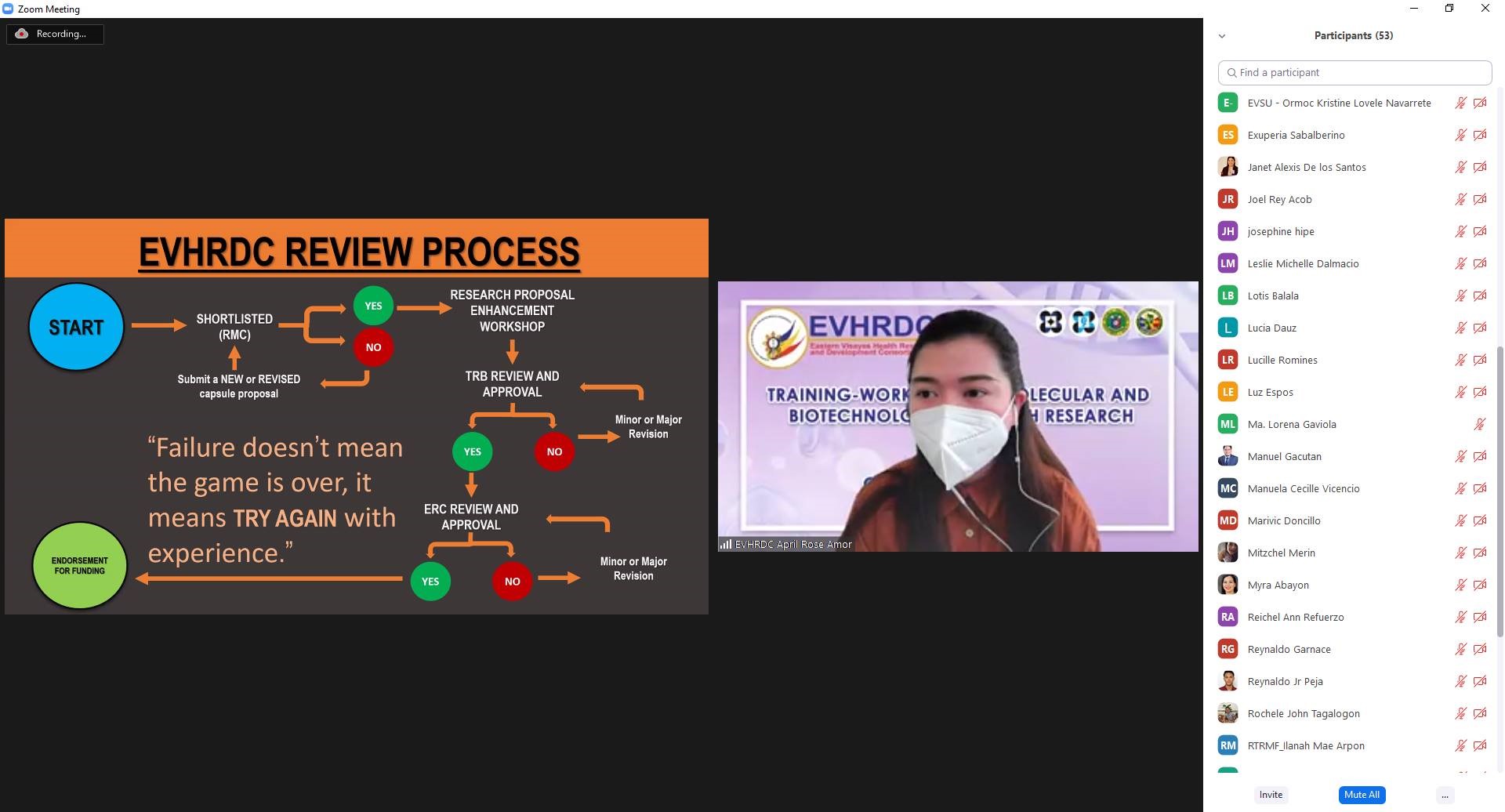 EVHRDC staff April Rose Amor discussing the EVHRDC review process to the participants.
For the workshop proper, the first workshop focused on identifying research topics, as well as the rationale and significance of the selected topics. The second workshop was dedicated to the creation of the conceptual framework and the formulation of research objectives. During the third workshop, participants worked on defining their research design, methodology, work plan, and outputs based on the DOST 6Ps and their intended beneficiaries.
After the training workshop, participants were encouraged to submit their final capsule proposals. They are given until October 20, 2021 to submit their proposals. They were informed about the schedule of the RMC shortlisting which is October 25, 2021 and the Research Proposal Enhancement Workshop in November 2021.
Dr. Lucia P. Dauz, EVHRDC Director, and Engr. Ernesto M. Granada, DOST 8 Regional Director and EVHRDC ExeCom Co-Chair, presented Dr. Leslie Michelle Dalmacio and Dr. Sheriah Laine de Paz-Silava with certificates of recognition for serving as the activity's resource speakers.