Featured Events
Details

Written by

Administrator

Category: Featured Events
Hits: 290
INTRODUCTION

Around the world, approximately 810 women die every day from preventable causes related to pregnancy and childbirth. The vast majority of these deaths occur in developing countries like the Philippines. Despite progress for the past two decades in national policies tackling improvements in the delivery of maternal health care, the maternal mortality rate (MMR) across the Philippines remains persistently high with a notably slow decline of 2% annually. In 2018 alone, the Philippine Statistics Authority recorded a total of 1,616 Filipino women who died as a result of pregnancy and childbirth-related complications. This number increased from 1,484 deaths from the previous year.
The latest 2017 Philippine National Demographics Health Survey reports that the trends in infant and under-5 mortality rates in the Philippines were steadily in decline. In the five-year survey period, the reported infant mortality rate was 21 deaths per 1,000 live births. The child mortality rate was 7 deaths per 1,000 children surviving to age 12 months, while the overall under-5 mortality rate was 27 deaths per 1,000 live births. However, the trend in neonatal mortality has plateaued and neonatal deaths account for two-thirds of infant deaths. Bacterial sepsis, pneumonia, and respiratory distress of the newborn were consistently listed by the Department of Health as the top three leading causes of death among infants.
One of the strategic objectives of the PCHRD's Institution Development Division (IDD) is to strengthen the capacities of individuals in health research institutions on the development and implementation of priority health research. To address this objective, the PCHRD has adopted a "mentoring of regional researchers program".  This will be implemented to train and guide researchers in the conceptualization, development, finalization and approval of health research proposals.  One of the areas of focus is maternal and child health.  Maternal and child health, being a relevant public health concern, will benefit from research  that will address and improve the health and well-being of its beneficiaries. This is envisioned to alleviate suffering and preventable deaths among all women and children and eventually redound on society.
THE CALL

The Department of Science and Technology Philippine Council for Health Research and Development (DOST-PCHRD), together with the Foundation for the Advancement of Clinical Epidemiology Inc. (FACE Inc.), is holding a CALL FOR CAPSULE PROPOSALS on research focusing on Maternal and Child Health. 
The call is open to new researchers (professionals, graduate students, residents and post resident fellows of related specialties) belonging to public and private higher education institutions, research and development institutes, hospitals and non-profit organizations.
Because this is a capacity building/mentoring program, the project will consider the submissions of young and promising researchers who have never had a past research that has been funded by the PCHRD.
Research topics should preferably focus on one of (but not limited to) these priority areas:
Maternal and child mortality and morbidity

Maternal Nutrition

Prenatal care

Management of the second stage of labor

High risk pregnancy

Teen pregnancy

Essential Intrapartum and Neonatal Care (EINC)

Breastfeeding and / or breastfeeding support

Postnatal care

Prematurity

Care of the high risk neonate

Neonatal respiratory diseases and pneumonia

Neonatal sepsis

Kangaroo - Mother care
Capsule proposals that involve multidisciplinary collaboration are encouraged.

Ready to submit? Please go to the project submission portal at bit.ly/dostmch2022.
For more inquiries, do not hesitate to send an email to This email address is being protected from spambots. You need JavaScript enabled to view it.
Download Capsule Proposals Template here:
https://docs.google.com/document/d/1D8-ULPA6uxczvuxX1OC1kMOf4aHBRAhA/edit?usp=sharing&ouid=111975918556644134041&rtpof=true&sd=true
Details

Written by

Brayan A. Bornias, SLSU

Category: Featured Events
Hits: 1118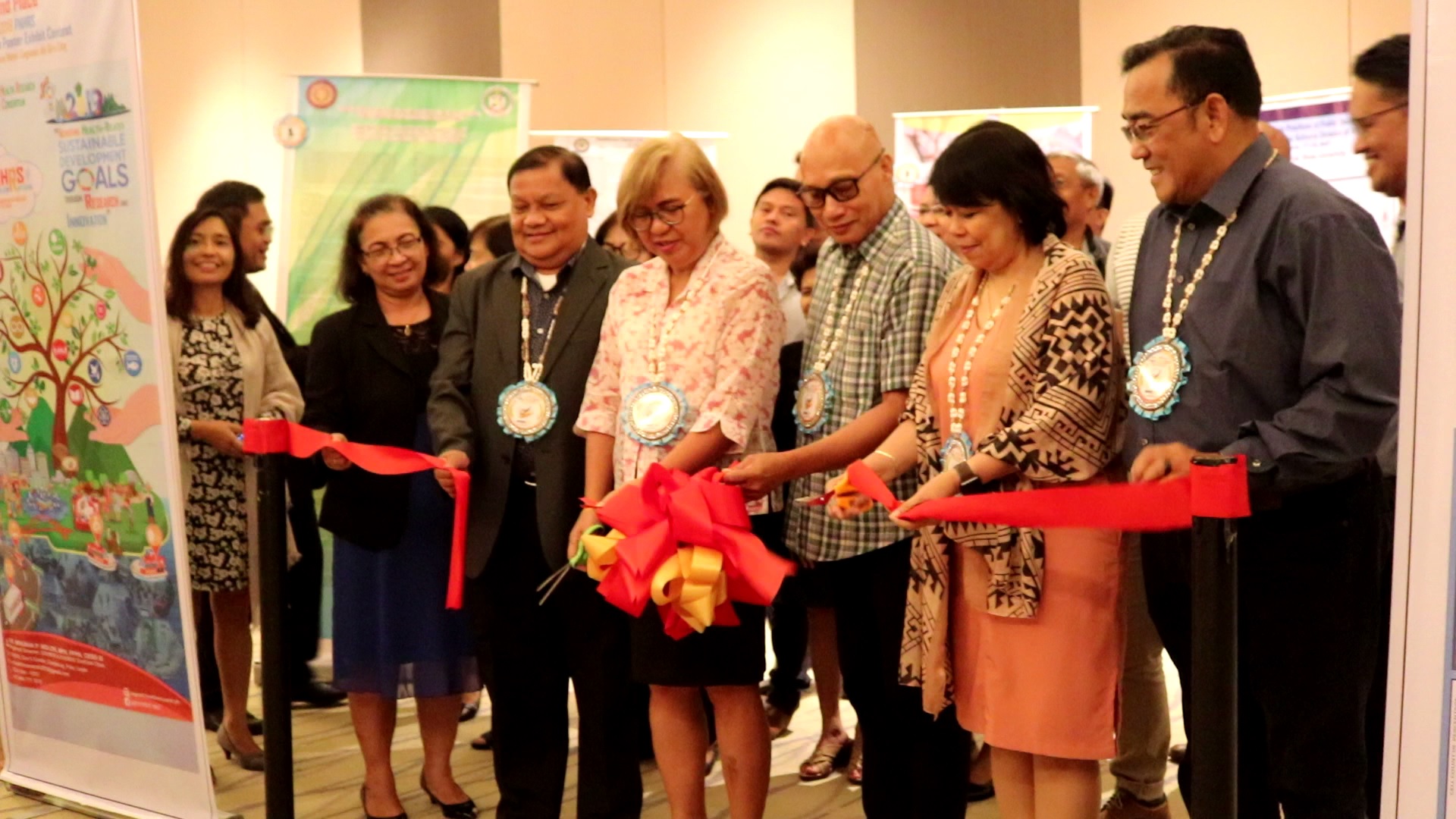 The Eastern Visayas Health Research and Development Consortium (EVHRDC) together with the Department of Health Regional Office VIII (DOH RO8) conducted its 2019 Regional Health Research Symposium (RHRS) on October 23, 2019 at The Summit Hotel, Tacloban City, Leyte. This activity is the Region-wide contest for Oral Research Paper Presentations and Poster Exhibits both for professional and student categories where modest cash prizes are given to the winners.
This year's theme was adapted from the 2019 Philippine National Health Research System (PNHRS) week celebration conducted in Cagayan de Oro last August 9-12, 2019, "Achieving Health-related Sustainable Development Goals through Research and Innovation". Engr. Ernesto M. Granada, the Consortium Director and the Assistant Regional Director-TO of DOST 8, in his opening remarks, pointed out that this worthwhile activity provides platforms to health research community not just in the region but nationally.
"We have known that Philippines is one of the many countries of the world which is a signatory to the sustainable development goals for its attainment by 2030. From the 17 sustainable development goals, we can see that there are health-related issues that can be addressed such as no poverty and we can induce nutrition problem, health education problem and others."
Mr. Willard N. Riveral, Chair of EVHRDC Research Utilization Committee (RUC), introduced the presenters, guests and visitors from various state universities, public and private government agencies. Around sixty (60) guests, professionals, students and visitors participated the regional symposium coming from the various SUCs and government agencies in Region 8. The presenters were coming from Biliran Province State University (BPSU), Northwest Samar State University (NwSSU), Samar State University (SSU), Leyte Normal University (LNU), Remedios Trinidad Romualdez Medical Foundation (RTRMF), Holy Infant College (HIC), and Burauen Comprehensive National High School. The different committees of the consortium were also recognized as well as the EVHRDC staff, guests and speakers.
Ms. Josephine Hipe, Chair of the Structure of the Organization, Monitoring and Evaluation Committee (SOMEC), introduced the judges for oral research presentation and poster exhibit contest. For the oral research presentation, the judges were Dr. Noel R. Juban of the College of Medicine University of the Philippines-Manila, Mr. Leonido P. Olobia of the DOH Regional Office VIII, and Fr. Patricio R. De Los Reyes of the Divine Word Hospital. For the poster exhibit contest, the judges were Engr. Ernesto M. Granada of the DOST Regional Office VIII, Ms. Anicia P. Catameo of the Philippine Council for Health Research and Development (PCHRD), and Sr. John Mary Fornillos of the Holy Infant College.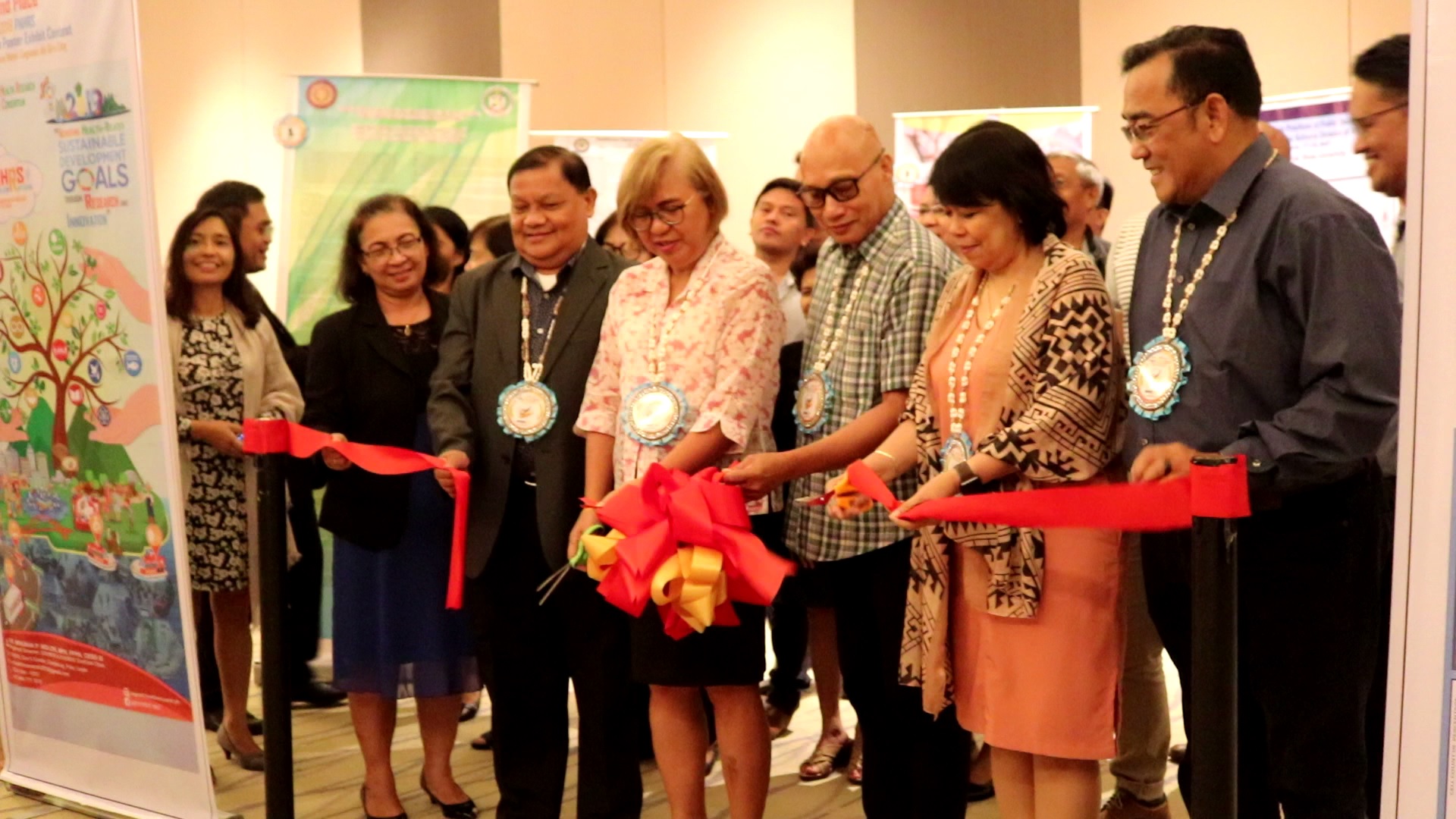 Ceremonial opening of poster exhibit graced by this year's keynote speaker, Dr. Minerva P. Molon and guests
 After review and evaluation, the following were announced as winners of the oral and poster presentations:
Winner of Poster Exhibit Contest from BCNHS delegates of the Department of Education Leyte Division for Student Category with the research title: "Adequacy and availability of service of barangay health centers in Burauen, Leyte" presented by Ms. Christine Marie M. Narrido and Mr. Ralph Aron T. Baduya.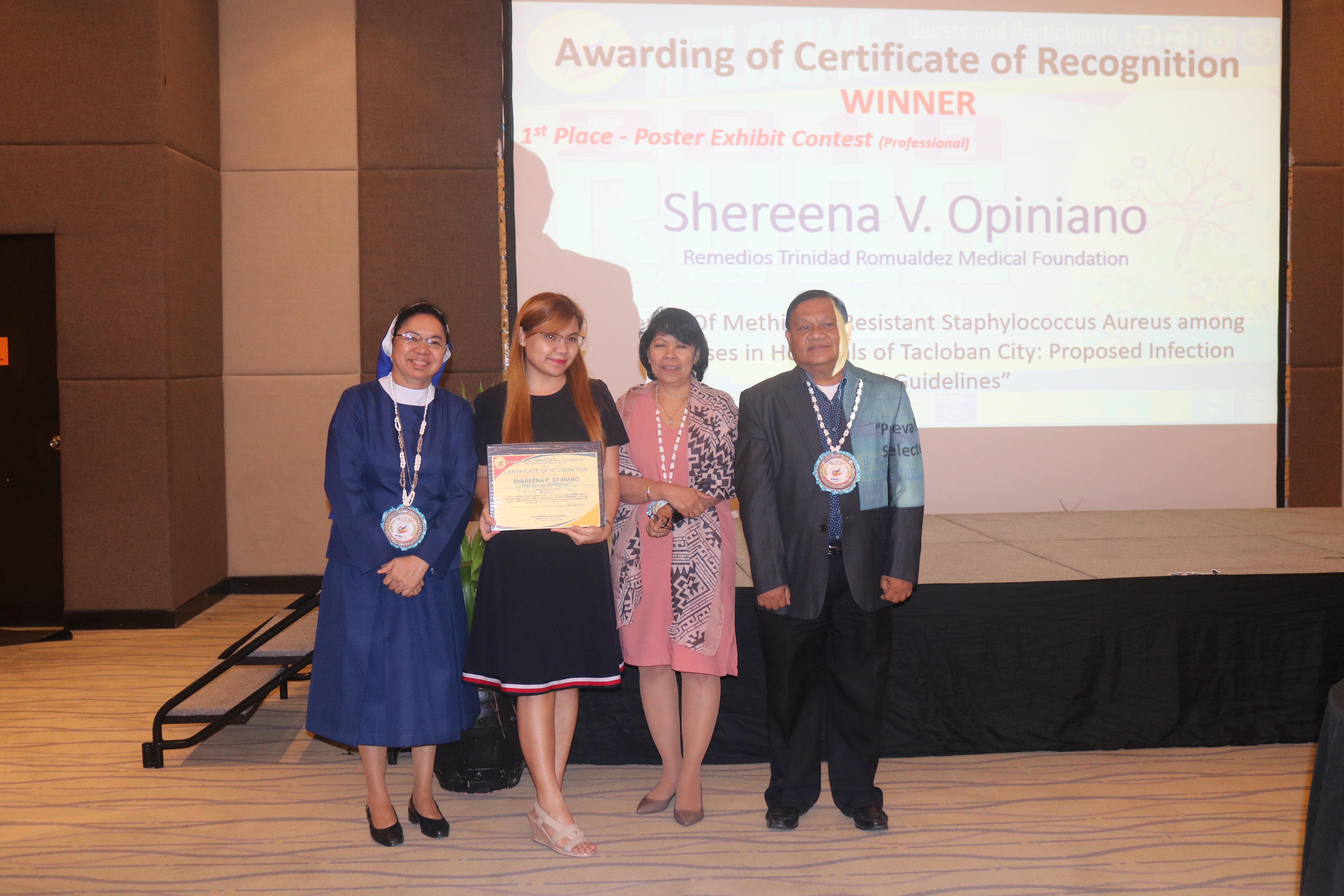 Winner of Poster Exhibit Contest from RTRMF delegates for Professional Category with the research title: "Prevalence Of Methicillin Resistant Staphylococcus Aureus among Selected Nurses in Hospitals of Tacloban City: Proposed Infection Control Guidelines" presented by Ms. Sherrena V. Openiano. 
Winner of Oral Research Presentation from HIC delegates for Student Category with research title: "Development of Starch-based Biolplastics Using Gabi (Colocasia esculenta L.) and Cassava (Manihot esculenta) for a More Durable and Eco-friendly Plastic"  presented by Mr. John Lloyd del Agua
Winner of Oral Research Presentation from BiPSU delegates for Professional Category with research title: "Effects of Graphic Health Warning Labels in Cigarette Packaging Among Smokers in Cabugcayan, Bilran" presented by Ms. Mae Geraldine Dacer.

The chairs of each committee, director, coordinators and the over-all chair of the consortium were also given certificates of recognition for their exemplary performance and commitment in providing full support in the implementation of health-related activities and in enhancing the EVHRDC operations in Eastern Visayas.
Dr. Leo M. Acaba, Member of EVHRDC-SOMEC, in his closing remarks, thanked the DOH and DOST through the EVHRDC Family in making this event a successful one. Indeed, all the participants were winners already because they went home with cash prizes. A fellowship night was held thereafter in celebration of the success of this year's regional symposium.
Details

Written by

Jeffrey Hinampas

Category: Featured Events
Hits: 4605
The Executive Committee, which shall be the overall governing body of the consortium; which is charged with overseeing all administrative and operational concerns of the consortium;
The EVHRDC Secretariat, which shall function as the body coordinating all efforts of the different committees of the consortium, and shall take charge of administrative functions, including but not limited to fiscal management and inter-institutional coordination;
Research Management Committee, which is charged with various affairs concerning the management of planned, ongoing and concluding research projects;
Ethics Review Committee, which shall be the authority on research ethics within the consortium;
Capacity Building Committee, which is in charge of building the capacity of member institutions in engaging in research activities and forming institutional partnerships;
Research Utilization Committee, which is in charge of securing and managing information necessary for the operations of the consortium and its activities;
Structure, Organization, Monitoring and Evaluation Committee, which is in charge of concerns regarding membership of institutions, hiring of secretariat staff and selection of committee chairs and members.
Details

Written by

Administrator

Category: Featured Events
Hits: 1314
On May 16, 2018, the Eastern Visayas Health Research and Development Consortium (EVHRDC) Secretariat to visit the Eastern Samar State University (ESSU) Borongan Campus as host in the conduct of back-to-back activities: 2nd Quarter Research Information Committee (RIC) meeting and call for proposals.
During the said call for proposals, the secretariat is expecting at least 21 participants from the different institutions in the province of Eastern Samar, to attend and submit health-related proposals for funding through the consortium.
After the call for proposals, the RIC, chaired by Mr. Willard N. Riveral, will be conducting its 2nd quarter meeting to discuss matters concerning the EVHRDC activities of the Committee for the second and third quarter of this year.

Further, the visit also aims to follow-up the progress of the research project of Mr. Mark Bency Elpedes, a researcher who failed to attend the recently conducted progress reporting of RRF funded projects held on May 8, 2018, in Tacloban City.