Health
Details

Written by

Ms Lieza Noelle Malinao, SLSU - Sogod

Category: Health
Hits: 728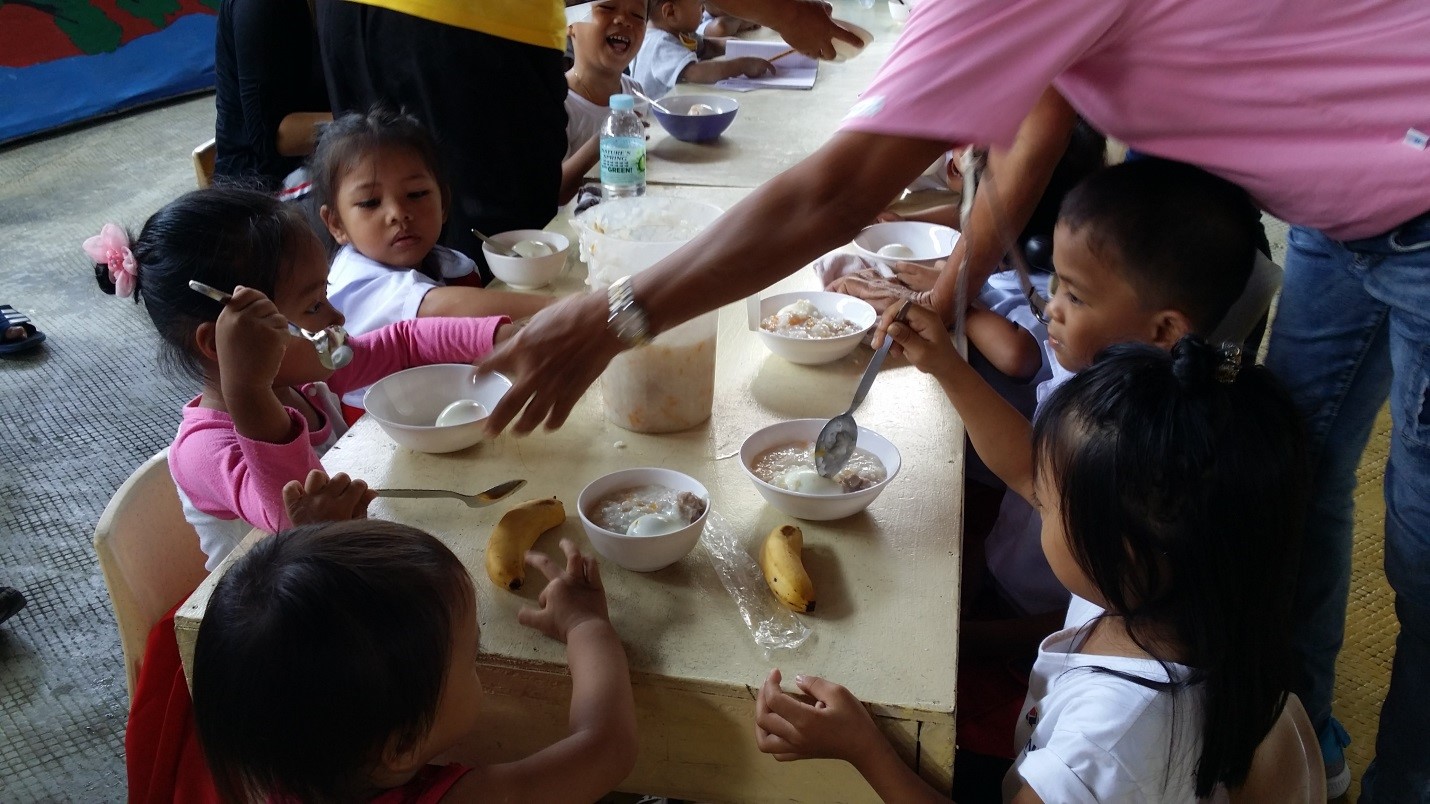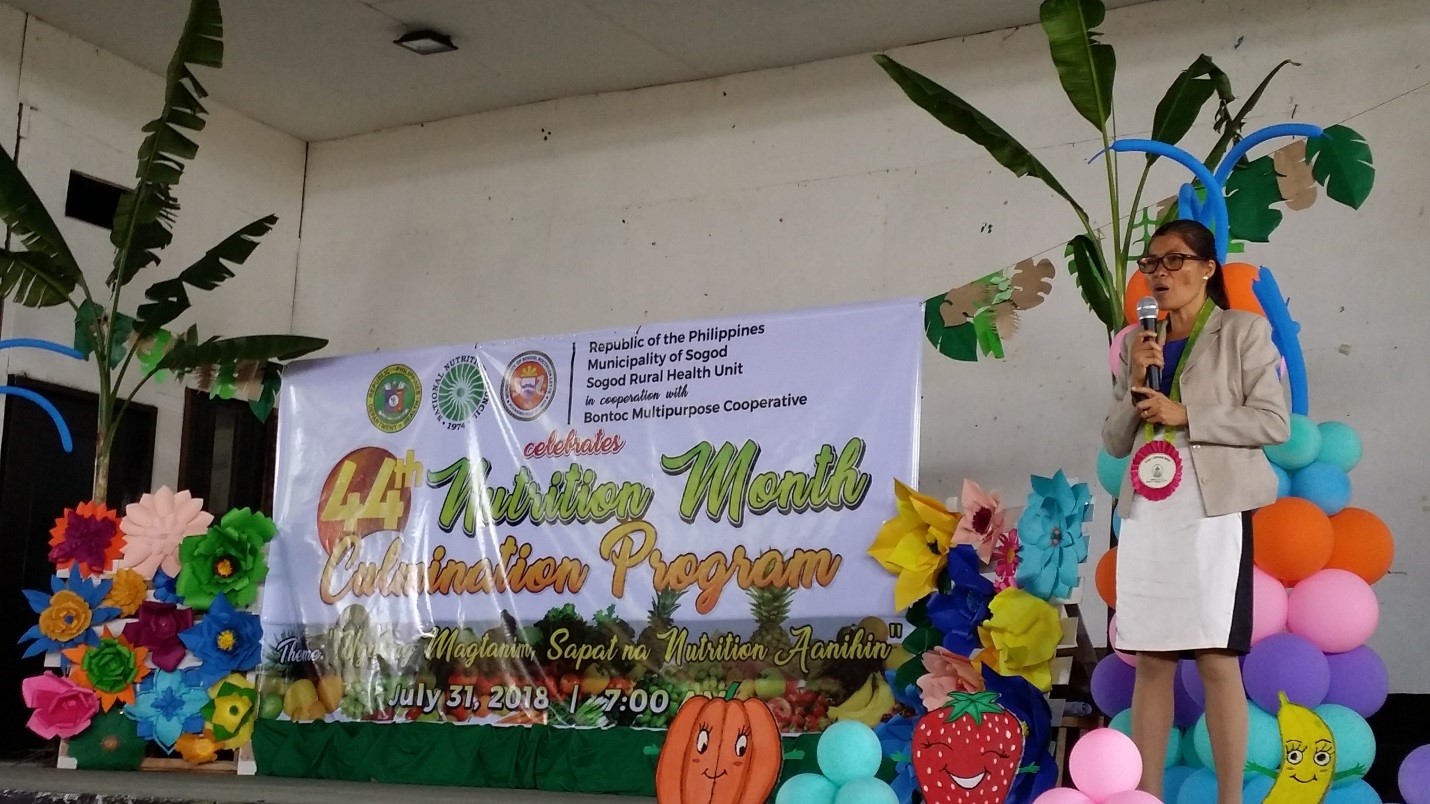 Southern Leyte State University faculty member Dr. Romecita Rosolada
on her seminar session on Nutrition and Organic Gardening.
The municipality of Sogod held its 44th Nutrition Month, with the culmination of the event on July 31, 2018. The theme for the event was "Ugaling Magtanim, Sapat na Nutrition Aanihin." To boost the theme, the Rural Health Unit of Sogod who spearheaded the event in cooperation with the Bontoc Multipurpose Credit Cooperative, invited Southern Leyte State University faculty member Dr. Romecita Rosolada to give a seminar on Nutrition and Organic Gardening to the hundreds of Sogod residents in attendance at the Culmination Program.
Whole families were attended the culmination activity.

Rosolada talked about basic food groups, vegetables




with high nutritional content, organic farming practices




and techniques, and showed various photos




of actual organic home gardens.
Children are fed with eggs and rice vegetable porridge.

Bowls of rice vegetable porridge await
serving to both old and young participants.
Details

Written by

Ms. Gemma Tabao, PIA

Category: Health
Hits: 659
Department of Health (DOH) Nutrition Program Manager, Felicita Borata and National Tuberculosis Program Nurse Coordinator, Caryl Lapriza share some health information particularly on the Importance of Breastfeeding and the Prevention and Control of Tuberculosis, to some Barangay residents of the 5 barangays in Quarry District of Tacloban City.
The barangay health forum which was initiated by the Philippine Information Agency, Leyte Provincial Office was held last June 11, 2018 at the Eastern Visayas State University (EVSU).


Details

Written by

Alina Bradford, Live Science Contributor

Category: Health
Hits: 1196
Good sources of vitamin B5 include kale, cabbage, eggs, kidneys and livers.
Credit: Wasu Watcharadachaphong | Shutterstock
Vitamin B5, also called pantothenic acid and pantothenate, is vital to living a healthy life. Like all B complex vitamins, B5 helps the body convert food into energy. B5 is naturally found in many food sources. "Pantothenic," in fact, means "from everywhere," because the vitamin is available in so many food sources. 
Benefits 
Vitamin B5 provides a multitude of benefits to the human body. It is found in living cells as a coenzyme A (CoA), which is vital to numerous chemical reactions, according to a study published in the journal Vitamins and Hormones. 
"Pantothenic acid is typically used in combination with other B vitamins in the form of a vitamin B complex formulation," said Dr. Sherry Ross, OB/GYN and Women's Health Expert at Providence Saint John's Health Center in Santa Monica, California. The other vitamins in the vitamin B complex are vitamin B1 (thiamine), vitamin B2 (riboflavin), vitamin B3 (niacin), vitamin B5 (pantothenic acid), vitamin B6 (pyridoxine), vitamin B12 (cyanocobalamin), and folic acid, she added.
B vitamins turn carbohydrates into glucose, which is the fuel that produces energy. According to the University of Maryland Medical Center, B vitamins also help the body use fat and protein and are also important for maintaining a healthy nervous system, eyes, skin, hair and liver.
Specifically, B5 helps to:
Create red blood cells 

Create stress-related and sex hormones

Maintain a healthy digestive tract

Process other vitamins, particularly B2 (riboflavin)

Synthesize cholesterol
Vitamin B5, taken as a supplement, has also been found to help with lowering cholesterol. In a 2011 study published in the journal Nutrition Research, researchers at the Princeton Longevity Center in New Jersey found that supplements of pantethine, a derivative of vitamin B5, reduced total cholesterol and LDL cholesterol in subjects with low-to-moderate cardiovascular risk. 
Another study at Asahikawa Medical College in Japan found that pantethine might be beneficial in the prevention of diabetic angiopathy. A study by the National Academy of Sciences of Grodno, Belarus also found that pantethine can be useful in the treatment of diabetes. 
"Pantothenic acid is used in treating and preventing pantothenic acid deficiency and skin reactions from radiation therapy," Ross said. "Other health benefits of pantothenic acid that have been suggested but not scientifically proven include improve symptoms related to ADHD, arthritis, athletic performance, skin problems, alcoholism, allergies, hair loss, asthma, heart problems, carpal tunnel syndrome, lung disorders, nerve damage, colitis, eye infections, convulsions, kidney disorders, dandruff, depression, diabetic problems, immune function, headaches, hyperactivity, low blood pressure, insomnia, irritability, multiple sclerosis, muscular dystrophy, and muscle cramps."
Sources
Some good sources of pantothenic acid include mushrooms, legumes and lentils, avocados, milk, eggs, cabbage, organ meats such as liver and kidneys, white and sweet potatoes, whole-grain cereals and yeast, according to the U.S. National Library of Medicine. In addition to those sources, the Linus Pauling Institute at Oregon State University also lists egg yolks, broccoli, fish, shellfish, chicken and yogurt. 
The University of Maryland Medical Center says the best sources of vitamin B5 include brewer's yeast, corn, cauliflower, kale, tomatoes, split peas, peanuts, soybeans, sunflower seeds, lobster and salmon. 
Details

Written by

Novoclinical Healthcare

Category: Health
Hits: 818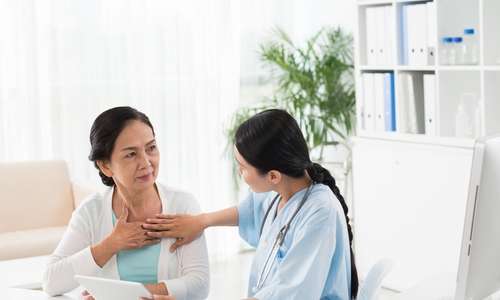 Researchers at the University of Nebraska Medical Center have published a clinical review that finds a consistent increase of cardiovascular disease in patients with rheumatoid arthritis.
The review appears April 23 on the front page of the British Medical Journal, a leading science journal. Journal articles serve to alert health providers to new medical information providers may use to help determine treatment for their patients.
The findings come from researchers summarizing the overall body of evidence accumulated over the last decade of cardiovascular disease in rheumatoid arthritis from a large number of independent studies. The studies range from in vitro and animal model studies to meta-analyses of large clinical trials and observational studies.
"The 'take home message' is that rheumatoid arthritis does not solely target the joints," said Bryant England, M.D., assistant professor, UNMC Division of Rheumatology & Immunology. "Rheumatoid arthritis is a systemic disease with several mechanisms by which it increases the risk of cardiovascular disease.
He said because cardiovascular risk encompasses multiple mechanisms, health care providers need to implement a multi-faceted approach to prevent cardiovascular events in rheumatoid arthritis patients.
"This includes treating the rheumatoid arthritis aggressively, using medications that change the disease course of rheumatoid arthritis, smoking cessation efforts, managing traditional cardiovascular risk factors (diabetes, high blood pressure, cholesterol), limiting the use of medications linked to cardiovascular disease, and encouraging a healthy lifestyle (e.g. diet and exercise)," Dr. England said.