Latest News
Details

Written by

Consuelo Alarcon, PIA 08

Category: Latest News
Hits: 65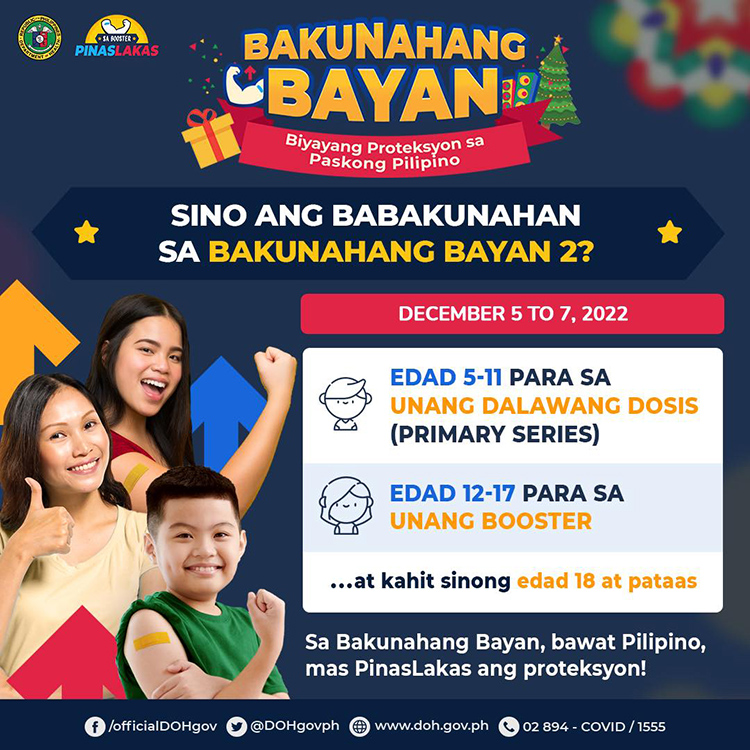 TACLOBAN CITY, LEYTE (PIA) – With the looming possibilities of surge of COVID-19 cases due to the forthcoming festivities, the Department of Health Eastern Visayas Center for Health Development (DOH-EVCHD) is set to formally launch today, December 6, the 3-day PinasLakas Special Vaccination Days - Bakunahang Bayan Part II with DOH Undersecretary Camilo Pancratius Cascolan to grace the activity.
The activity will be conducted through settting-based vaccination in malls, terminals, adjacent to schools, workplaces, clinics, pharmacies and fast-food establishments across the region.
Dr. Rodolfo Antonio M. Albornoz, assistant regional director of the Department of Health Eastern Visayas has called on all national government agencies and the local government units to provide support to the Bakunahang Bayan Part II in order to improve the COVID-19 booster coverage and to achieve the wall of immunity.
"Again, we appreciate hindi naman kayang gawin ito ng health sector alone-the DOH, ano ito whole-of-society o whole-of-government approach at kaakibat natin dito ang mga partners sa RVOC committee na eventually ang target naman natin dito na maging safe at protektado ang mga kababayan natin sa Eastern Visayas," Albornoz said.
Albornoz said while the gathering of people cannot be avoided this holiday season, it would be better for Filipinos to be protected.
The 3-day vaccination drive aims to facilitate the rapid mobilization of vaccination services in order to reach 50% booster coverage among eligible population 12 years old and above and the remaining 5-11 years old and those individuals with due second doses, missed doses or booster doses particularly in health and economic sector.
READ FULL ARTICLE REFERENCE HERE . . .
Details

Written by

Mr. Sarwell Meniano, PNA 08

Category: Latest News
Hits: 58
TACLOBAN CITY – At least 63,655 children under five years old in Eastern Visayas are stunted, the National Nutrition Council (NNC) said on Tuesday, citing monitoring reports from local government units.
The number of preschool children with stunted growth represents 14.81 percent of the total 355,004 children measured through the monitoring done by cities and towns in the region this year.
While local officials are busy dealing with the pandemic and other health concerns, fighting stunting should also be given attention by helping communities and families become aware of ways to stop this malnutrition problem, Catalino Dotollo, NNC 8 (Eastern Visayas) nutrition program coordinator, said in a phone interview on Tuesday.
"The case of stunting in the country and the region is alarming. We need to provide very crucial intervention during the first 1,000 days of a child's life because unlike underweight, the effect of stunting is irreversible," Dotollo said.
READ FULL ARTICLE REFERENCE HERE . . .
Details

Written by

Dr. Sherrie Ann C. Labid, (SSU/RUC Chair)

Category: Latest News
Hits: 128
Aiming to disseminate health research in the region, the Eastern Visayas Regional Health Research and Development Consortium (EVHRDC)  organized a two-day Regional Health Research Symposium on  November 9 to 10, 2022, at Summit Hotel, Marasbaras, Tacloban City.
An average of 58 on-site, 64 zoom, and 137 FB live participants from the different member institutions, LGUs, and Council for Health Research and Development (PCHRD) joined the symposium, which started with a plenary session for four speakers on day 1 and research competitions on day 2.
The hybrid activity started with opening remarks by the Chairperson of EXECOM and Regional Director of DOH-EVCHD, Dr. Exuperia B. Sabalberino. The Research Utilization Committee (RUC) Chair and, at the same time, the Executive Director for Research at Samar State University, Dr. Sherrie Ann C. Labid, delivered the rationale of the activity.
This year's theme, "Health Research: Responding to Challenges Towards National Recovery and Resiliency." was highlighted through the keynote address given by the Executive Director of PCHRD, Dr. Jaime C. Montoya, who addressed the DOST's role in the COVID-19 recovery and resiliency and noted, "We believe that the sustained ability of communities to adapt and recover from health-related adversities is crucial in our efforts to build an inclusive, resilient and strong health care system."
Plenary sessions were followed accordingly, with the chief of the Health Systems Strengthening Division and Disease Prevention and Control Bureau of DOH- Central Office, Dr. Gabriel R. Borlongan as the first plenary speaker, discussing "Recovery and Improving Access to Healthcare in the Philippines."   He was joined by Dr. Katerina N. Abiertas, President of the AMHP Western Samar Chapter.
Plenary session 2 was spearheaded by Dr. Julie Mart C. Rubite, Medical Officer of the Diseases Prevention and Control Bureau of DOH-Central Office, tab on the study "Tropical diseases and Monkeypox: Are We in Control?" His reactor was Angelita C. Jaya, Assistant 7 of the UPM-SHS.
Dr. Tarjani Shukla of the Department of Biological Sciences of the University of Texas at Dallas discussed "Pharmacological Regulation of Protein Translation in Fragile X Syndrome."  Dr. Rolly Fuentes of the University of the Philippines Visayas-Tacloban Campus provided a reaction to her presentation.
Day 1 of the symposium was concluded with a research result presentation on Updates on the Mechanism and Treatment of Chemotherapy-Induces Peripheral Neuropathy (CIPN). The DOST-Balik Scientist Postdoctoral research fellow from the Department of Anesthesiology School of Medicine and Public Health University of Wisconsin-Madison, Dr. June Bryan De la Peῆa, presented this. The Dean of College and the concurrent Research Director of Scholastica's College of Tacloban, Dr. Antonio E. Lim, Jr., shared his knowledge and experience-based reaction on the topic.
The second day of the symposium was allotted for the presentation of health research for the oral and poster competition for professional and student categories.