News
Details

Written by

Edward Joseph C. Labid, SSU

Category: News
Hits: 423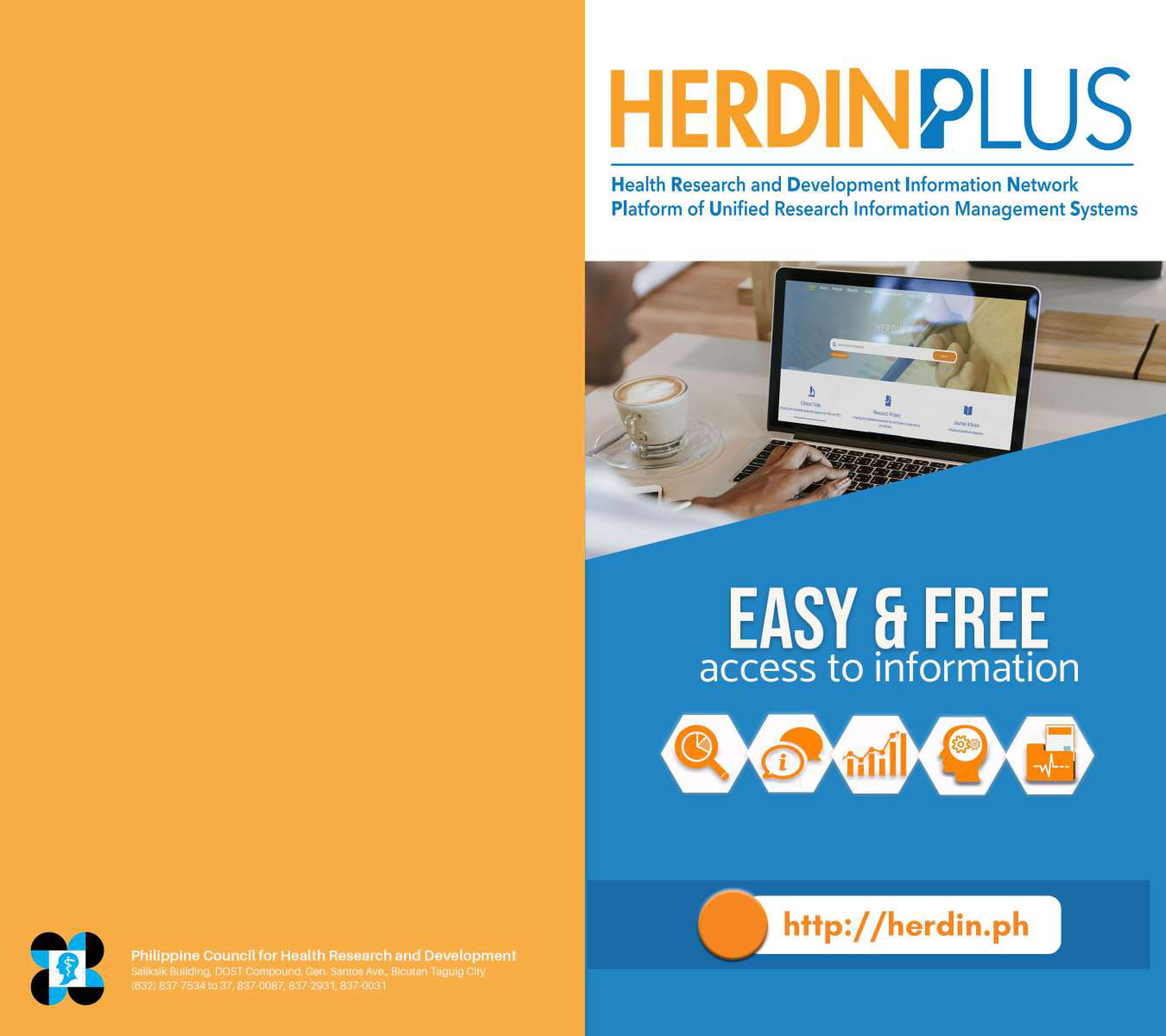 In an effort to assist research institutions organize and manage their research information, the Philippine Council for Health Research and Development (PCHRD) conducted the HERDIN PLUS Online Learning to three (3) member-institutions of the Eastern Visayas Regional Health Research Consortium last January 4 to 6.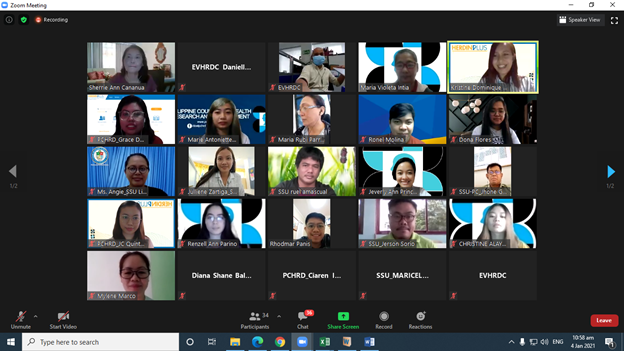 January 4, 2021
Day 1 (Samar State University)
January 5, 2021
Day 2 (Leyte Normal University)
January 6, 2021
Day 3 (Samar State University)
Each session opened with a welcome message from Engr. Ernesto M. Granada, Regional Director of the Department of Science and Technology- Region 8 and Co-Chair of the EVHRDC EXECOM.  This was followed by the presentation of research management process by the following representatives of each institution: Dr. Sherrie Ann Cananua-Labid, Executive Director for Research (SSU), Dr. Solomon D. Faller Jr., Director, Research and Development Office (LNU), and Dr. Ophelia Velarde, Head, Grants Development (VSU). 
Participants from Samar State University (SSU), Leyte Normal University (LNU), and Visayas State University (VSU) were provided with lectures about HERDIN PLUS System in three separate sessions.  Consequently, the PCHRD staff gave an overview of HERDIN PLUS as well as a discussion pertaining to the account creation, fields presentation, searching process, and document delivery service.
Speaking about HERDIN PLUS, Research Utilization Committee (RUC) chair Labid disclosed that aside from organizing and managing research information, it will improve access to health and health-related information.  "It [HERDIN PLUS] will also generate a comprehensive report on health and health-related research information from PNHRS implementing institutions, consortia member institutions, and research-generating institutions", she added.
Details

Written by

Gemma Tabao, PIA 08

Category: News
Hits: 415
TACLOBAN CITY, January 22 (PIA) -- The office of the Regional Sanitary Engineer of the Department of Health (DOH), reminds local government units on the implementation of proper disposal of human remains.
During the recent "Suruswerte ha PIA" radio program hosted by Regional Director Olive Tiu of the Philippine Information Agency 8 (PIA-), it was learned from the DOH Regional Sanitary Engineer Percival de Paz that per 1976 Sanitation Code of the Philippines, all local government units must adhere and comply with the requirements provided in the said law, as to burial grounds, may it be public, private or memorial parks.
De Paz emphasized that no dead person is allowed to be buried in any area as desired, except those specified as burial grounds.
Among the requirements mentioned by the sanitary engineer in the designation of burial areas include a Municipal Resolution stating that the applied area is intended for burial use, separate from residential and other purposes.
"If ever we find any illegal burial, we immediately call the attention of the local chief executive for him to inform the nearest kin to have a mandatory transfer of remains," de Paz said.
The Engineer added that those who have the intention to operate a private cemetery, must have at least a 1.2-hectare lot, with 50 meters buffer zone, to avoid any contamination particularly on water dwellings, adding that the DOH should likewise issue an operational permit should other requirements be complied with.
On the management of Covid-19 related deaths, the health official stressed that proper precautionary measures must be strictly observed.
READ FULL ARTICLE REFERENCE HERE . . .
Details

Written by

Marcelo M. Pedalino, PIA 08

Category: News
Hits: 387
MAASIN CITY, Oct. 23 (PIA) -- The Coronavirus Disease 2019 (Covid-19) pandemic rampaging in this city is contagious, infectious, but it is mild, and can even be fought back with a physical body shielded by a strong immune system, according to Dr. Francilisa Tan, city health officer.
To illustrate her point, Dr. Tan said there are families turning out positive in recent days, but there is one member that turned out negative of the virus after undergoing the RT-PCR tests.
Dr. Tan was speaking as a resource person in the family development session (FDS), a monthly activity of the Pantawid Pamilya Pilipino Program (4Ps) Wednesday, Oct. 21, using the media forum/Kapihan sa PIA portal carried through livestream feed at the PIA Southern Leyte FB Page, with replay at radio station DYDM on Friday.
Risa Basalio, 4Ps provincial link, and Michelle Sabandal, 4Ps grievance officer, had forged an arrangement with PIA Infocen Manager Erna Gorne for the monthly FDS to have an alternate venue so their members can still listen -- and watch if they have gadgets --  in order to avoid the face-to-face gathering with the current surge in the number of confirmed cases in the city.
Aside from Dr. Tan, the maiden FDS on-air and FB live streaming also had a parent leader, Eufemia Cupas of barangay Combado, as guest, with Basalio and Sabandal acting as hosts.
Details

Written by

Gemma Tabao, PIA RO8

Category: News
Hits: 458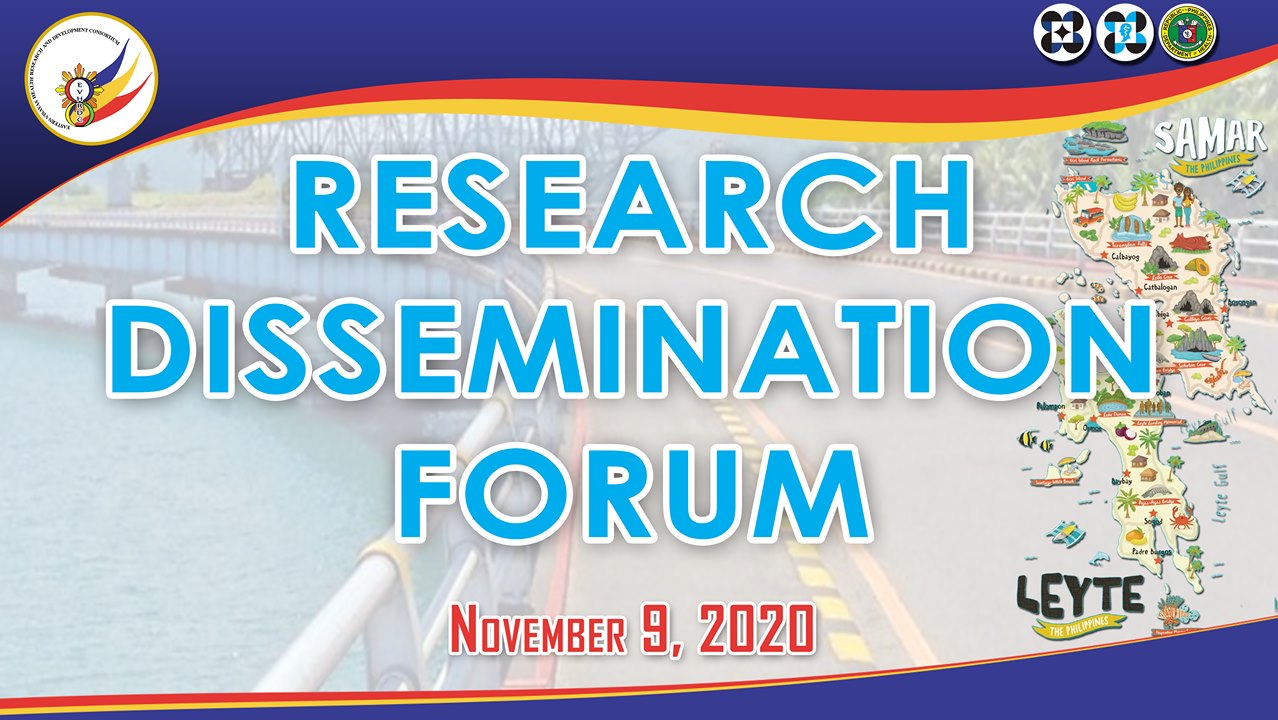 Palo, Leyte, January 28 (PIA) - The Eastern Visayas Health Research and Development Consortium (EVHRDC), an organization that strongly promotes health research activities in the region, has conducted on November 9, 2020, a Dissemination Forum on some Completed RRF (Regional Research Fund) Funded Projects.
The activity which was aimed to inform the public on some health initiatives highly relevant to human consumption so as to address some health issues, was conducted as part of the Department of Science and Technology (DOST) Regional Office 8's annual celebration of the National Science and Technology Week which was celebrated on November 9-13, 2020.
With the current health crisis the world is currently facing, the forum was made possible through Zoom Conference, a virtual platform commonly utilized to avoid face-to-face interactions, in adherence to the government's Covid-19 minimum health protocols.
Prior to the forum proper, a presentation of the EVHRDC Government Best Practices Recognition entry was made by, Dr. Reynaldo Garnace, a member of the EVHRDC's Capability Building Committee.
Among the completed health research projects disseminated during the regional event were: 1) Community Risk Factors on the Occurrence and Prevention of Diarrhea Outbreak in Eastern Visayas: A Case- Control Study conducted by Dr. Lilibeth Miralles of the Visayas State University, Alang-alang Campus; 2) Awareness, Utilization, Implementation, and Satisfaction on the High Impact Five (HI-5) Program in Eastern Visayas as presented by Dr. Pearl Irish T. Velicaria–De Paz of the Biliran Province State University, and; 3) Isolation and Molecular Characterization of Klebsiella-Predating Bacteriophages from Natural and Artificial Bodies of Water by Mr. Clive Ivan Mercado of the St. Scholastica's College of Tacloban.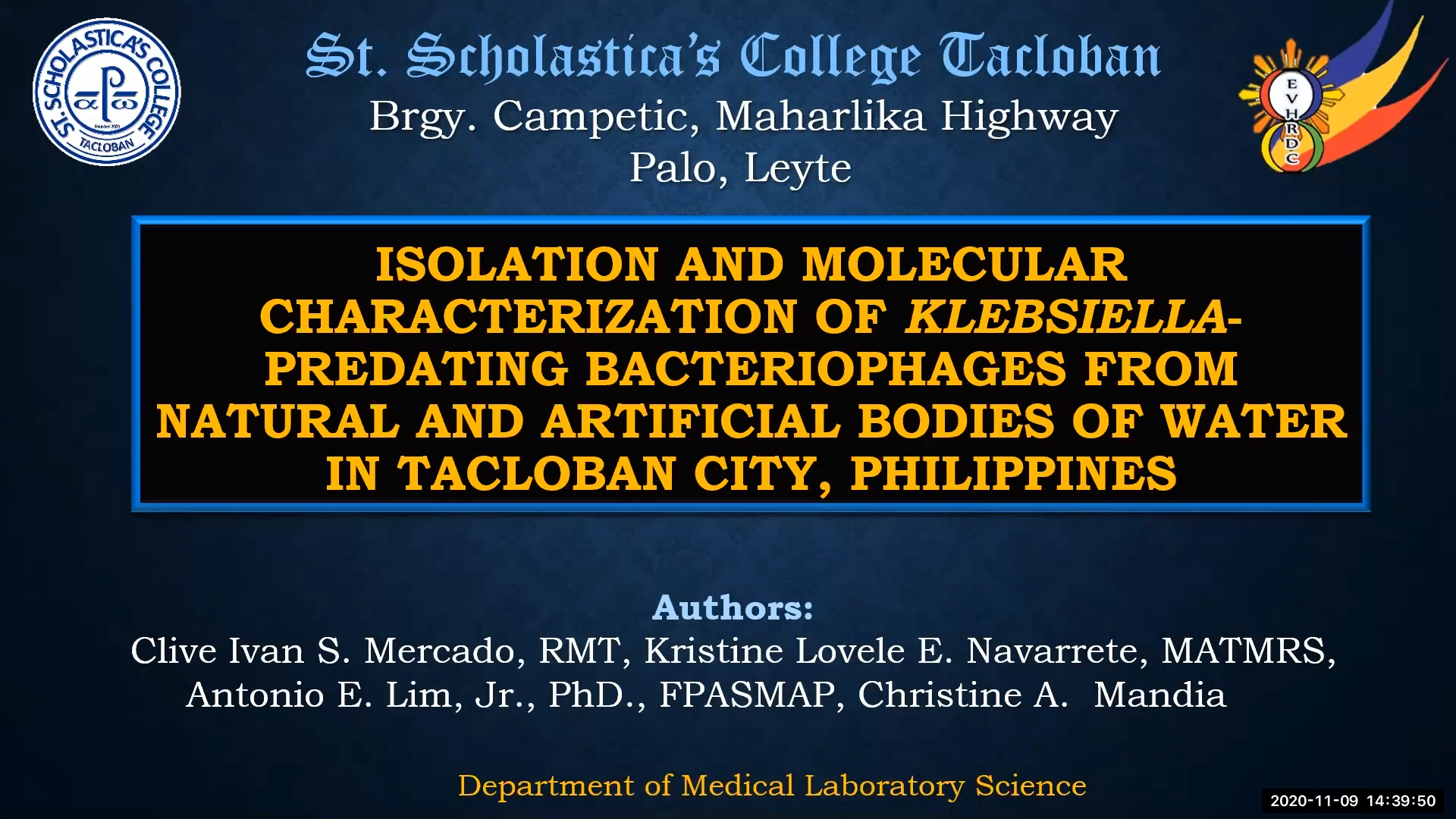 In efforts to clearly understand some scientific explanations on the above-mentioned projects, an open forum was initiated after the activity, of which questions were raised by the participants with accurate answers provided by the researchers themselves.
The Research Dissemination Forum is among the major activities of the region's research organization. Key ideas and importance of the said activity was given emphasis during the event by the DOST's EVHRDC Director, Dr. Lucia Dauz. (GTT/PIA-Leyte).
Details

Written by

EVHRDC

Category: News
Hits: 744
The Eastern Visayas Health Research and Development Consortium, in coordination with the Department of Health RO 8 and Department of Science and Technology RO8, announces the conduct of the CY 2020 Virtual Regional Health Research Symposium on October 29-30, 2020 via Zoom Online Conference.
Guided by this year's theme, "Research and Innovation for Accessible, Equitable, and High-Quality Health Solutions amidst Global Health Crises", the RHRS aims to disseminate the research outputs to different stakeholders in the region. It also aims to incentivize health researchers from the consortium's member institutions and to encourage the conduct of more researches related to health by giving away cash prizes to the winners of the Poster Exhibit and Oral Presentation Contests.
Twenty-four (24) shortlisted health researches under the Professional and Student categories will be highlighted during the two-day activity, with the first day being the schedule for the Poster Exhibit and the second day for the Oral presentation. Some of the areas studied in the shortlisted health researches include Health Service Delivery; Maternal, Newborn and Child Health; Communicable Diseases; Mental Health; and Filipino Traditional and Complementary Medicine, among others.
The RHRS Planning Committee, spearheaded by the EVHRDC-Research Utilization Committee together with the four different EVHRDC Committees and the Secretariat has intensified its preparations for this event considering that this is the first time it will be conducted virtually.
Around 200 participants are expected to attend this year's virtual RHRS coming from the 31-member institutions of the consortium all over the region.
For more details and inquiries, please email the EVHRDC Secretariat at This email address is being protected from spambots. You need JavaScript enabled to view it. or call 0917-304-3335.
Prepared by:
JEAN GAY O. RAGUB (SGD)
EVHRDC Coordinator
Noted by:
ERNESTO M. GRANADA (SGD)
Co-Chair, EVHRDC Executive Committee and 
Regional Director, DOST 8