News
Details

Written by

EVHRDC

Category: News
Hits: 636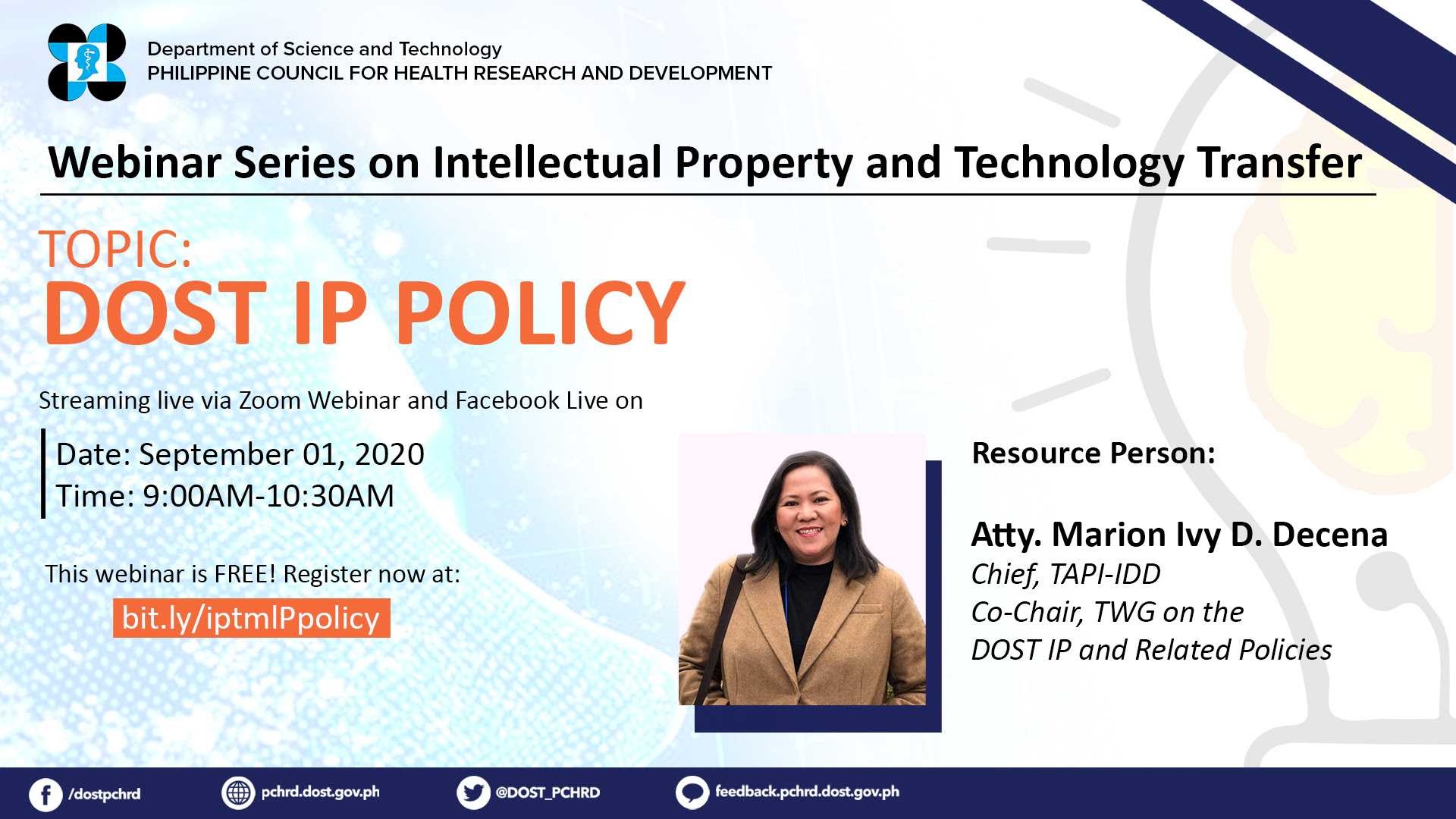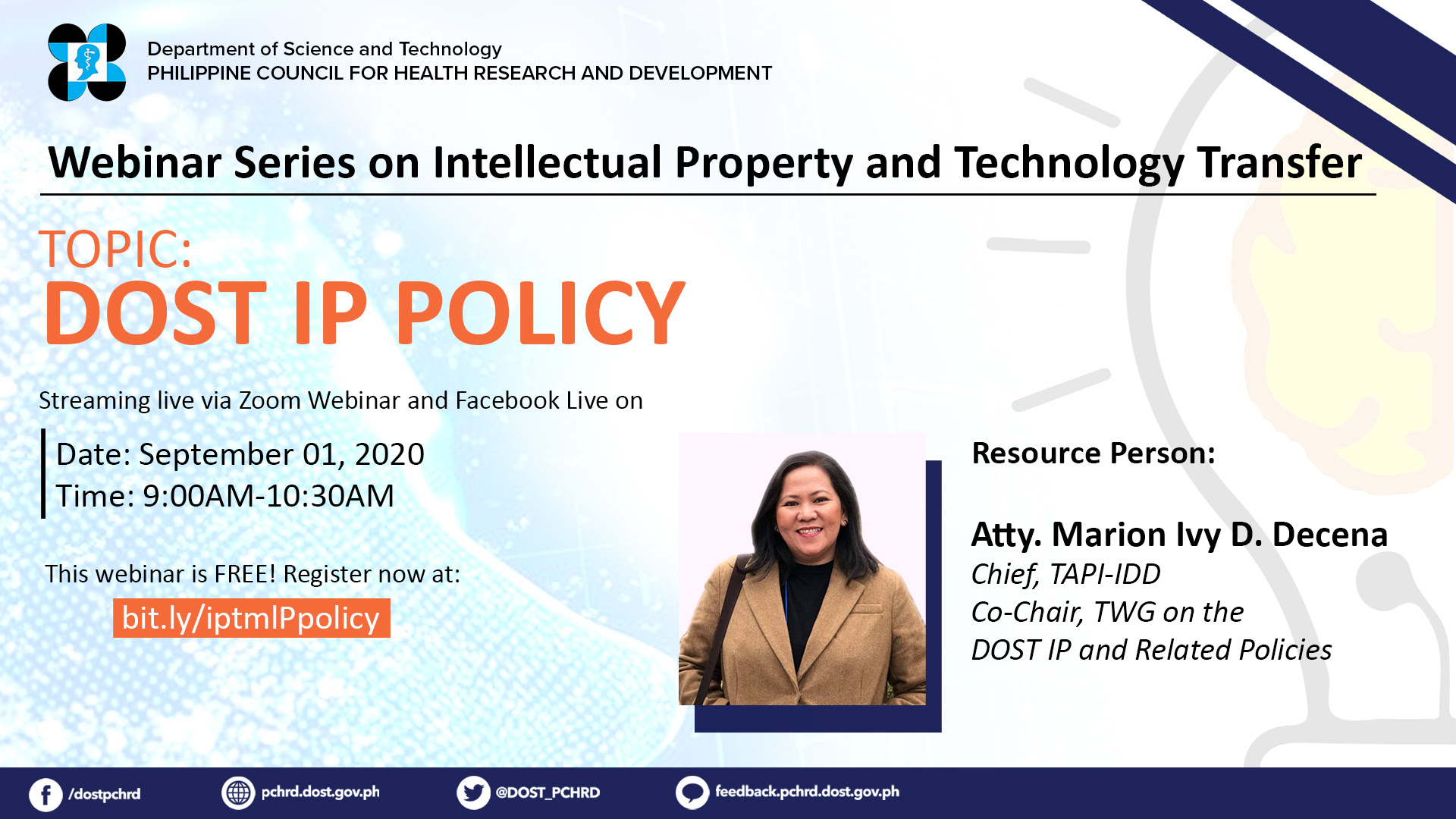 The DOST-PCHRD will be conducting a Webinar Series on Intellectual Property and Technology Transfer. This webinar series will be providing discussions on the Intellectual Property (IP) Policies of DOST. This webinar series generally aims to provide discussions on topics relevant to technology commercialization and intellectual property, specifically for researchers and technology transfer officers from institutions who avail of or are planning to avail DOST funds for their projects.
Our speaker, Atty. Marion Ivy D. Decena, Co-Chair of the Technical Working Group on the DOST IP and other related policies.
Join us on September 1, 2020 from 9:00 AM to 10:30 AM, by registering this link: http://bit.ly/iptmIPpolicy
Please feel free to disseminate the registration link to the members of your institution and your network.
For inquiries, you may reach us at This email address is being protected from spambots. You need JavaScript enabled to view it..
Details

Written by

Gemma T. Tabao, PIA 08

Category: News
Hits: 972
TACLOBAN CITY, August 20 (PIA) -- The Land Transportation Franchising and Regulatory Board in Region 8 (LTFRB-8), has mandated the public to use face shields aside from the face mask, when riding in public utility vehicles, starting August 15, 2020.
This Memorandum Circular 2020-033, according to LTFRB Communications Development Officer Aiken Jude Lopez during the Suruswerte ha PIA radio program hosted by PIA Director Olive Tiu, is an amendment of Memorandum Circular 2020-031, requiring drivers, conductors and passengers to wear full face shields and face masks while in public transport. This memorandum is in consonance with the mandate of the Department of Transportation or DOTr. 
"This LTFRB newly implemented health protocol is for everybody's safety and protection. This is among the precautionary measures considered against Covid-19," Lopez said adding that this is appropriate especially in this time where there is an increasing number of Covid-positive cases in the region."
No specific face shields are being required by the agency per LTFRB, as long as it covers the whole face and should be made of non-permeable materials, which means that liquids cannot penetrate or pass through the shield, to ensure protection of the commuters.
Lopez also said that the office has implemented other mandatory guidelines to include the observance of social distancing in public terminals and public utility vehicles,  where only 50 percent of the vehicle's passenger capacity are allowed, putting a divider between the driver and the passengers, and compliance of all standard health procedures as stated in the previous memorandum.
Details

Written by

Rodrigo S. Victoria, PIA 08

Category: News
Hits: 700
NAVAL, Biliran, July 24 (PIA) -- "COVID-19 affected person, whether suspect, probable or confirmed, in isolation or quarantine facilities can avail of the P22,449 benefit package," said Ma. Eva E. Aguilon, head of the Philippine Health Insurance (PhilHealth) - Naval Local Health Insurance Office.
Aguilon relayed the good news to Biliran Governor Rogelio J. Espina, municipal mayors and task force members attending the Biliran Provincial COVID-19 Inter-Agency Task Force (IATF) meeting Tuesday, July 21 at the Fragoch Function Room, this town.
The PhilHealth official urged the local chief executives in the Province of Biliran to have their isolation and quarantine facilities be certified by DOH and be accredited by PhilHealth before said benefit package can be availed of.
Aguilon made the call for accreditation of quarantine or isolation facilities termed by PhilHealth as community isolation units (CIUs) of LGUs in the province after learning that none of the LGUs in the province have a DOH-certified and PhilHealth-accredited at present.
Details

Written by

Sherrie Ann Cananua-Labid, EVHRDC-RUC Member

Category: News
Hits: 557
Tacloban City, Philippines - The Executive Committee (EXECOM) of the Eastern Visayas Health Research Consortium (EVHRDC) elected Dr. Lucia P. Dauz, former EVHRDC Coordinator, as its 2nd Consortium Director effective July 1, 2020.
Dr. Dauz took her oath of office online administered by the newly appointed Department of Science and Technology Regional Office 8 (DOST RO8) Regional Director Engr. Ernesto M. Granada at the 2nd Quarter Executive Committee Meeting via Zoom. Dr. Dauz succeeds Engr. Granada, former DOST Assistant Regional Director for Technical Operations, Region 8 and former EVHRDC Director, as the new Consortium Director.
Dr. Dauz is a Science Research Specialist II and was the Head of the Technical Consultancy Services Unit from 2005-2019.  As such, she acts as the Regional Coordinator of the Manufacturing Productivity Extension (MPEX) Program. She also coordinates with Provincial S & T Centers (PSTCs) in the identification of beneficiaries from Micro, Small and Medium Enterprises (MSMEs) to avail the MPEX Program.  Other functions include the supervision and provision of Technical Consultancy Services identified by PSTCs.  As member of the Review and Technical Evaluation Committee (RTEC), she reviews proposals submitted by proponents identified by the Provincial S & T Centers.
For Dr. Dauz, strengthening and maintaining a strong partnership with the Department of Health and other EVHRDC member institutions in the implementation of health related activities in the region should be among its immediate priorities. Moreover, to encourage prompt completion and full utilization of EVHRDC-funded projects, she is proposing to incentivize researchers of active member institutions. In an interview, she said: "Researchers of the different member institutions are the life-blood of the consortium.  They need to be challenged, capacitated and inspired to create solutions by conducting researches that would benefit the society.  Despite the current pandemic crisis, all the more that the consortium should shine particularly in the area of health research."
Present during the online installation of the new EVHRDC Director are the following: Dr. Minerva P. Molon, DOH-EVCHD Regional Director and EVHRDC Chair; Engr. Ernesto Granada, DOST 8 Regional Director and EVHRDC Co-chair; Dr. Filedito Tandinco, UPM SHS Dean and ExeCom member; Dr. Edgardo E. Tulin, VSU president and ExeCom member; Ms. Erleta S. Piñero, ERC Member and representative of Dr. George M. Colorado, CHED RO8 Regional Director and ExeCom member; Ms. Ma. Victoria Cuayzon, RUC Member and representative of Ms. Meylene Rosales, NEDA RO8 OIC Regional Director. The committee chairs of the consortium were also present during the installation and the EVHRDC RPO, Ms. Anicia P. Catameo.
Details

Written by

Gemma T. Tabao, PIA 08

Category: News
Hits: 485
TACLOBAN CITY, July 14 (PIA) – While Eastern Visayas records 30 percent or 53,000 stunted children aged 0-59 months old, the National Nutrition Council or NNC Regional Office 8 has  committed to address the health issue, encouraging local government units to make concrete and budgeted activities in response to the said problem.
With the same focus, the 2020 July Nutrition Month celebration has the theme, "Batang Pinoy, SANA TALL...Iwas Stunting, SAMA ALL! Iwas ALL din sa Covid-19." This is to promote awareness and mobilize actions to address child stunting.
"We have to be aware of the negative impact of child stunting and give evidence-based solutions for the benefit of our children," NNC 8 Regional Nutrition Program Coordinator, Catalino Dotollo Jr. said during the "Suruswerte ha PIA" radio program with Philippine Information Agency (PIA) Regional Director Olive Tiu.
Dotollo added there is a need to stimulate the communities in the region and emphasize the issue on child stunting as one of the indicators for child malnutrition.